Owing to its reform initiatives and measures aimed at facilitating doing business, India has invariably moved up in the World Bank's Ease of Doing Business (EDB) Index and found a place among the top 10 biggest improvers from their 2019 rankings in 2020 edition of Doing Business report.
World Bank's Doing Business Report, Ease of Doing Business Score and Ease of Doing Business Ranking
The World Bank's Doing Business report provides ease of doing business score and ease of doing business ranking. Ease of doing business ranking is provided on the basis of ease of doing business score and compares economies with one another. Ease of doing business scores (0-100) evaluate economies regarding best regulatory practice by comparison with the economy showing best regulatory performance on each indicator for Doing Business. Ease of doing business scores shows the nearness of economies to the economy showing best regulatory performance on each Doing Business indicator. A score of zero means worst regulatory performance and 100 means the best regulatory performance.
World Bank's Doing Business report 2020 compared business regulation in 190 economies and measured performance of an economy across 41 indicators of the following ten topics in the 12-month time period from May 2018 to May 2019.
Resolving Insolvency
Dealing with Construction Permits
Getting Electricity
Trading Across Borders
Paying Taxes
Enforcing Contracts
Starting a Business
Getting Credit
Registering Property
Protecting Minority Investors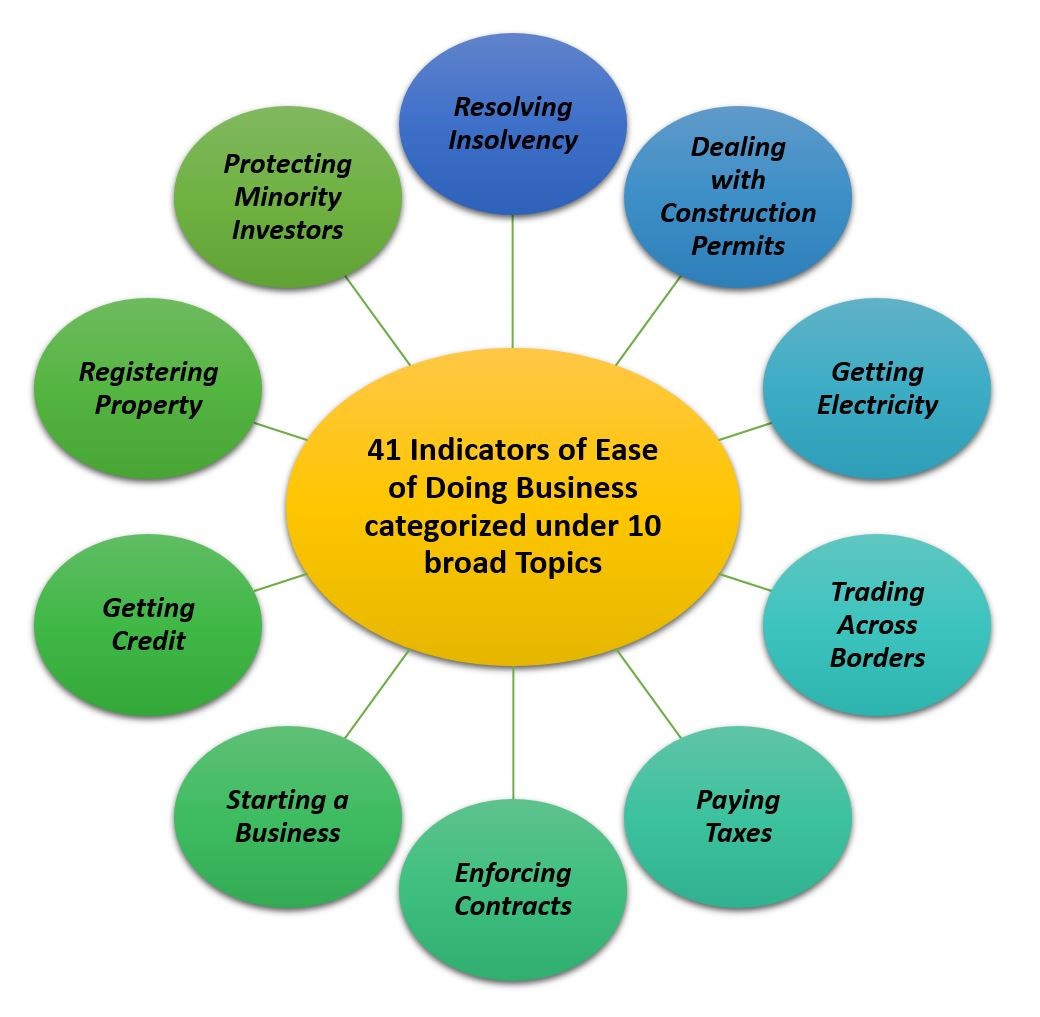 Two other indicators - employing workers and contracting with the government are not included in Doing Business ranking. The Doing Business also provides information on distance to frontier, removing obstacles to entrepreneurship, good practices and transparency in business regulation. Distance to the frontier represents a distance of an economy to the "frontier." The highest performance on each indicator across all economies since the indicator was introduced in Doing Business is taken as a frontier. The methodology used to measure Ease of Doing Business has often been critically examined for incentivizing factors like cutting corporate tax rates and quicker issuance of building permits and has changed over the years.
Performance of India and other economies in Ease of Doing Business (EDB) Index, 2020
India's rank has improved by 79 places from 142nd in 2014 to 63rd in 2019. India was at 77th position in the same report last year.
New Zealand and Somalia continue to have their 1st and 190th spots, respectively, in Doing Business report, 2020.
Among BRICS nations, India's rank is lower than of China and Russia.
In South Asia, Pakistan executed the most reforms. Bangladesh, Sri Lanka, Maldives and Afghanistan made no regulatory changes.
India moved to 52nd rank from 108th in resolving insolvency, to 27th from 52nd in dealing with construction permits, from 22nd to 25th in getting electricity, to 68th from 80th in trading across borders, to 154th rank from 166th despite a drop in score in registering property and from 7th to 13th position in protecting minority investors. There was no change in rank concerning the areas of paying taxes, enforcing contracts, starting a business and getting credit.
Evaluation of India's reforms for ease of doing business in Doing Business Report, 2020
Like 11 other countries, the report considered only two cities of India (Delhi and Mumbai) to construct the indicator. The report described India's reform initiatives as "particularly commendable," considering its size. The improvement in India's ranking was a result of reforms in the areas of starting a business, dealing with construction permits, trading across borders and resolving insolvency.
Starting a business has become easier by the introduction of a single form SPICe (Simplified Proforma for Incorporating Company electronically) by merging five different applications. As per the report, the efficiency of acquiring building permits in India improved. Trading across borders became easier due to implementation of e-Sanchit, an online application system, under the Single Window Interface for Trade (SWIFT) to allow traders to submit documents electronically with digital signatures, trade stakeholder's integration into single electronic platform and up-gradation of port infrastructure.
As per the report, India's reforms in the area of resolving insolvency has been a mixed bag. In other words, resolving insolvency has been made easier as well as more difficult. India promoted reorganization proceedings, which made resolving insolvency easier. However, it made resolving insolvency harder as dissenting creditors would receive more in liquidation than under reorganization.
The report also mentions the 'Make in India' campaign for focusing on foreign investment, helping and encouraging the private sector particularly manufacturing to improve and improving India's overall competitiveness. In 2015, the Indian government's goal was bringing India within 50 top economies on the ease of doing business ranking by 2020.The report notes that the government used Doing Business indicators as manifestation of India's commitment to reform and progress. The government aimed to reform all areas measured by Doing Business indicators, particularly paying taxes, trading across borders and resolving insolvency.